If you're planning a trip to Hawaii, and want to experience something special, then you should definitely add the hike up Diamond Head to your itinerary! Located on Oahu island, Diamond Head is one of Hawaii's iconic natural landmarks. It's a volcanic tuff cone with an impressive ridgeline that calls out to adventurers like yourself! So grab your camera and some water, bring a towel too – you don't want to get sweaty while you take in the stunning views – and prepare for an unforgettable experience. When hiking up Diamond Head, be sure to look out for Hawaii's native plants and animals along the way! You might even spot some wild goats or hawks during your climb. Once at the top, you'll be rewarded with stunning 360-degree views of Waikiki Beach, Honolulu and even Pearl Harbor in the distance. So don't forget to take lots of pictures – it's a memory you won't want to miss!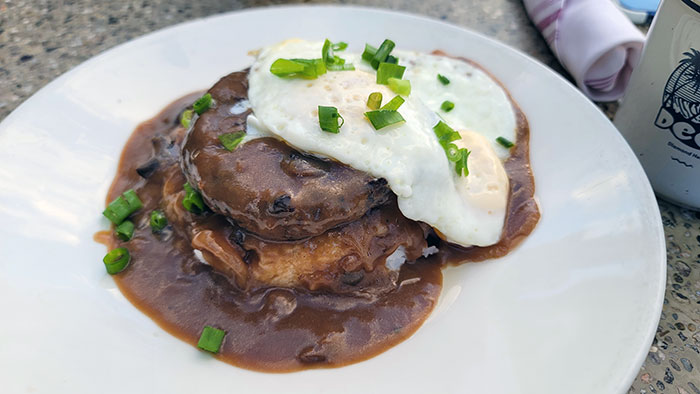 Before hiking up the mountain, you might want to consider eating something substantial. Are you looking for something delicious to eat? If so, why not try loco moco! This classic Hawaiian dish is the perfect blend of savory and hearty flavors. It's made up of white rice topped with a juicy hamburger patty, a fried egg, and gravy. Yes, gravy – it's what makes this meal truly special! Just one bite of this tasty treat is sure to satisfy your hunger and put a smile on your face. So don't wait any longer – give loco moco a try today and see why it's become such an enduring favorite!
DECK at the Queen Kapi'olani Hotel in Hawaii is a truly remarkable experience. Situated on the 3rd floor rooftop pool deck, you'll be dazzled by panoramic views of the iconic Diamond Head steps just steps away from world-famous Waikiki beach!
The menu features American Pacific-inspired dishes crafted with fresh, locally sourced ingredients whenever possible. They pride themselves on providing guests with thoughtfully created recipes and handcrafted cocktails made with the highest quality and freshest possible ingredients. You'll find a variety of local beers and wines to pair perfectly with your meal, as well as a diverse selection of spirits and bartender-made cocktails.
Upon arrival to DECK, you're immediately surrounded by an aura of warmth and comfort that only island hospitality can bring. The service staff is friendly, knowledgeable and always willing to answer any questions about their menu or cocktail choices. The atmosphere is inviting yet relaxed; perfect for an evening out with friends or a romantic escape. There's also live music playing on certain nights, adding another layer of enjoyment to your visit.
But it's not just the food or atmosphere that make DECK so special – it's also the views! From anywhere in the restaurant, you can take in breathtaking views of Waikiki beach and Diamond Head from up high. There are plenty of seating options where you can soak up some sun or simply relax under the stars – both equally enjoyable experiences!
DECK's outstanding menu offerings, combined with its incredible views and friendly service make it one of Hawaii's premier dining destinations. Whether you're looking for a romantic escape or an evening out with friends, DECK has something for everyone – making it a must-visit spot when vacationing in Hawaii!