G&L Security Training provides the essential tools needed to become an armed security guard. Through our extensive and in-depth security training, you can gain the qualifications necessary and develop the skills to be a successful security guard. To become an armed security guard, you must meet all licensing requirements set by the state Bureau of Security and Investigative Services (BSIS). The application process includes submitting fingerprints, completing shooting proficiency tests, attending a firearms training class, and passing background checks.
We took their course on Initial Exposed Firearms. This was a two-day fun-filled instruction that covers gun safety and when to use it. The second day concentrates on shooting. Edel has never fired a gun until this training. Garrett and Laramie covered the basics of shooting, how to aim, and how to shoot with a proper stance. More importantly, they covered the proper way to get into your stance from a holstered (gun secured in your holster) position.
The benefits of becoming an armed security guard are numerous. An armed security officer has a higher level of authority than their unarmed counterparts and may have access to more high security areas, including banks and airports. They also have the ability to protect their environment with a weapon if necessary.
The cost of becoming an armed security guard depends on the type of training required in your state and any additional courses you may choose to take. In California, G&L Security Training offers all courses at a reasonable rate that fits within most budgets. The entire process can usually be completed within two to three weeks, depending on the availability of classes and other factors.
Gun safety is an important part of security guard training as it teaches security guards how to safely handle and store weapons while also helping them develop proper communication techniques when dealing with potentially dangerous situations. G&L offers comprehensive gun safety training along with our security guard curriculums to ensure security guards are trained properly and safely.
By following G&L Security Training's comprehensive security guard training program, you can be confident that you're receiving the best security guard education available today. With honest, straightforward instruction and a reasonable cost, G&L will help you gain the skills needed to become an armed security guard with confidence. Garrett and Laramie teach security professionals who value safety and security above all else.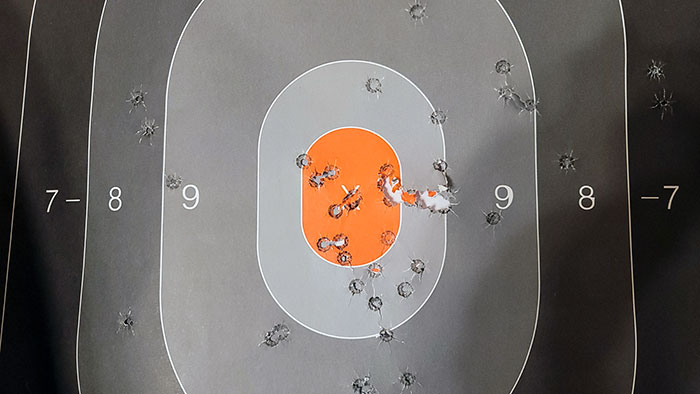 Garrett Simpson
Garrett started his career in 1998 as a mall security guard; he then went on to perform armed security work and bail enforcement. San Francisco housing security was next on his list of experiences. From there, he transitioned to working overseas security contracts and specialized in maritime security details in the Middle East. Once back on the mainland, Garrett enrolled in the police academy and worked as a police officer. While working EP he opened his own successful BSIS Training school. He is currently working in the Executive Protection field for major clients in the California Bay Area.
When Garrett returned home, he enrolled at the police academy and worked as an officer while also opening his own successful BSIS Training school. Eventually, he shifted his focus to Executive Protection field and currently works with major clients in the California Bay Area.
Throughout his nearly two decades of security experience, Garrett has continuously cultivated expertise in gun safety, security protocol, and discrete protection for high-value assets or personnel. His passion for protecting people is reflective of the numerous awards, certifications and commendations that he has earned throughout his career. With each assignment that Garrett takes on, he continues to challenge himself by learning new techniques to stay ahead of potential threats; this allows him to always provide the best security service for his clients.
Laramie Simpson
Laramie began her security career as a security guard, but soon found success in a managerial role. She managed security at various branches and took the opportunity to learn and grow professionally. Laramie also had a passion for small business management, so she decided to take a break from security and opened a successful specialty cake bakery. With the experience gained running her own business, she returned to security with more confidence and knowledge.
Together they formed G&L Security Training, offering their security services with many certifications under their belt including: BSIS Guard Card Instructor (1591), NRA Certified Pistol Instructor (#230296182), NRA Range Safety Officer, DOJ Certified FSC Instructor (#351696), Red Cross CPR/AED/First Aid Instructor (Certificate ID: 011DHDB), High Rise Fire Safety Director, CPI (Crisis Prevention Institute) Instructor, De-escalation of Force Instructor, Certification to Roll Fingerprints, Report Writing Instructor, California Certified BSIS Armed Guard.
We recommend G&L Security Training. If you are looking for a security guard company that is professional, knowledgeable, and helpful – look no further! This security guard company is top notch. Not only do they understand the importance of proper security measures, but they are also extremely knowledgeable about firearms. They will be sure to provide you with the highest level of protection possible. And did we mention how friendly and helpful they are? They make sure that all of your questions and concerns are addressed, so you can rest easy knowing that you are in good hands. So if you're looking for a great security guard training company that puts customer service first, this is definitely the one for you! You won't find better security services anywhere else! Edel went from never holding/shooting a gun to hitting the bullseye from 15 meters away.
Check them out at G&L Security Training.