In 1971, Momofuku Ando invented the first instant ramen noodle cup. He was inspired by the speed and convenience of fast food restaurants in America, and wanted to create a similar product that could be enjoyed anywhere in the world. After several failed attempts, he finally created a successful noodles-in-a-cup product that could be cooked in just three minutes. And so, Cup Noodles were born! This has been a staple in the office for many decades.
Since their inception, Cup Noodles have become a global phenomenon. They are now sold in over 80 countries and have been enjoyed by billions of people around the world. In fact, they are so popular that an estimated one billion cups are consumed every year!
What makes Cup Noodles so special? Part of it is the convenience – they can be easily prepared anytime, anywhere. But I think the biggest appeal is the taste. Cup Noodles have a unique flavor that is loved by many people.
Also, they are called Cup Noodles, not Cup of Noodles. If Spike likes them, so do we.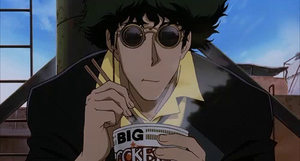 If you've never had the pleasure of trying Cup Noodles, I highly recommend them! They are delicious, easy to make, and perfect for a quick snack or meal. Trust me, once you try them you'll be hooked!